Get Your Safe Removed Quickly With Thornhill
Removing or re-siting a safe is not an easy task.  It requires specific expertise and suitable equipment.  Not only are safes generally well secured to the building infrastructure but they can be incredibly heavy and bulky and therefore require the correct equipment to move them out of, or to a different location within, a building (particularly when located any higher than the ground floor).
At Thornhill Security, unlike many of our competitors, we don't just sell safes but also offer a complete after sales service which includes the installation of a new safe, or the removal, relocation or re-siting of existing safes.
Over the past 40 years, we've removed 1000s of safes from homes and businesses of all sizes, including till safes, drop safes, strongrooms, banker's safes, gun safes, night safes, antique safes and more.
We can remove any sized safe with a fast, local service – call us now on 0117 9674994 to get a quote.
"Once again my sincere thanks to your and your very professional team for removing the five money safes from the cellar.  The whole operation went so unbelievably smoothly without a scratch on any of the walls or doorways.  It was a pleasure to have you undertake this very skilful work and I would have absolutely no hesitation in asking you to repeat the process on any other site."
We Remove or Relocate Your Safe
If you are moving house or business premises you may wish to take your safe with you rather than purchase another one.  Our team of engineers can remove your safe from your existing premises, transport it to your new one and then install it with minimal fuss.
Similarly, if you are having your building re-developed we can remove and re-site it to a new location within the building.
Alternatively, if the existing safe is old or no longer suitable for your requirements not only can we provide you with advice on a suitable replacement but take away and dispose of your old safe at the same time as installing your new one.
"Just to say that I have paid your invoice today and to thank you for your very efficient service. Your men were so pleasant and competent. I will be delighted to recommend your company to anyone wanting a new safe or removal of an old one."
Our Safe Removal Process
Need a quote? Give us a call on

0117 9674994 or fill out the form below and we will get back to you. 
Why Choose Thornhill Security for your Safe Removal?
Fast local service
In-house team, we don't sub our work out
Deal with one contractor from start to finish
MLA approved locksmith
40 years experience
Accredited company (SafeContractor, Construction Line, BSVTA, MLA)
Government approved supplier
Safe Removal – Frequently Asked Questions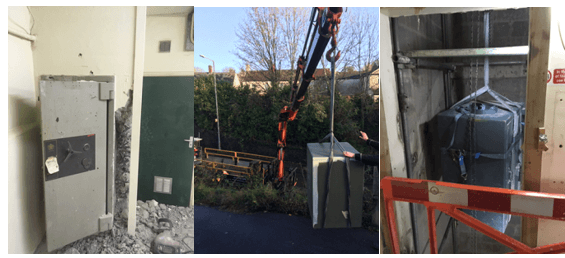 What to Consider Before Removing or Relocating Your Safe
The following are just a few of the details we need to take into consideration before removing or re-siting a safe.
Details of the safe
Type of safe (if possible manufacturer and model)
The safes external dimensions
Whether keys / combinations are available so that it can be opened (making moving it considerably easier)
Location of the Safe
Where the safe is situated within the building (ground or upper floors)
If the safe is located on upper floors, whether the building has a lift or stairs. If a lift, the maximum weight capacity for the lift, if stairs, how many flights
Whether the safe will fit through doorways, details of any other hazards that might need to be negotiated on the route out
Size of stairwells and landing dimensions. Whether the stairs are straight or have turns, floor surface
Access to the site
How close to the building can a vehicle park and are there any restrictions on heavy goods vehicles in the proximity
When can access to the premises / street be obtained
Are there any height restrictions in the area or entrance to the building
Are there steps to the front of the building, curbs on the pavement to consider
Where a safe is being relocated or re-sited within another building, similar considerations need to be taken for the new premises – see our safe installation page for more details.
Other Risks
Does the safe pose any other risks that need to be taken into account when being moved such as Asbestos which can be found in some older models.  If Asbestos fibres are contained within the safe it must be handled specifically by someone who has undertaken relevant training, with additional protective equipment and it cannot be disposed of in the same manner.
Book Your Safe Removal Today!
Do you need an existing safe removed, re-sited or relocated?  Contact our specialist team on 0117 9674994, they will be happy to help and provide a free no obligation quote for the work.