We can offer a wide range of cylinder locks from leading manufacturers including ABS, ABUS and Mul-T-Lock.
Cylinders can be provided in Euro, Oval or Rim based on your needs and can also be supplied keyed alike. 
We offer security cylinders with features including drill protection, key duplication protection and resistance against the most common forms of attack.
We can also construct master key systems, which can be supplied in various cylinder types and can include Padlocks to meet all types of locking requirements.
Mortice level locks are practical and versatile, being used commonly on both internal and external doors throughout buildings.
We can supply mortice level locks to BS Standard and non BS Standard dependent on the level of security you require including the ERA Fortress mortice lock.
We can also key this type of lock alike, but would not advise this on a master key system as this would lower their level of security.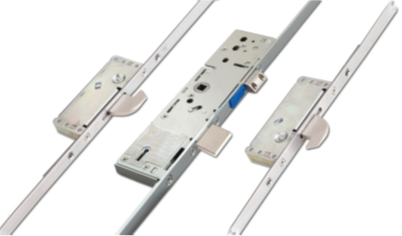 With so many UPVC Doors fitted in both the housing market and commercial premises, we can offer replacement locking mechanisms when these units fail. 
Multipoint locks have become a popular choice with home and business owners that rely on UPVC doors, providing a higher level of security due to locking at multiple points along the frame. 
We offer a large range of UPVC locks to suit your needs including the Vectis Plus 2 hook door lock by ERA which is suitable for both timber and composite doors.
Din locks are designed to a European standard and are often used in commercial projects such as modern office blocks due to their flexibility and ease of installation. They are often used alongside fire exit locks and panic hardware.  
At Thornhill Security, we supply a large range of din locks to suit your needs including the high security HD72 lock manufactured by Union.
Call Our Security Experts Today on
Thank you for your help and very quick and efficient service.